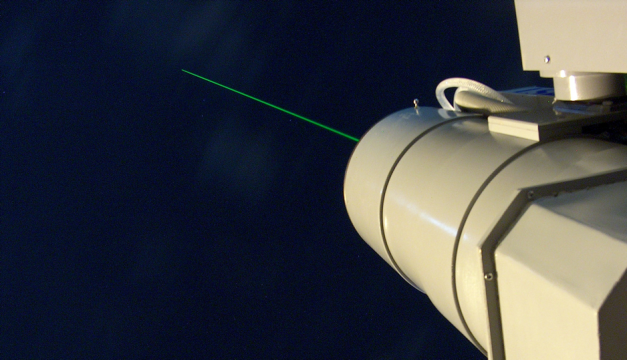 Framework
ECARS addresses the challenges of the Twinning programme by tackling deficiencies and networking gaps between INOE and internationally-leading counterparts at EU level. ECARS is funded by the European Union's Horizon 2020 Research and Innovation programme under grant agreement No. 602014.
Objectives
The overarching objective of the ECARS project is to boost INOE's research capacity in the domain of atmospheric remote sensing and create a pole of excellence in East Europe.
In view of this overarching objective and in order to meet the expected impacts specified by the Call, ECARS has defined three top-level objectives governing the activities carried out in the project:
Obj. 1 Strengthen INOE's expertise in ground-based, airborne and satellite remote sensing technology and data exploitation
transfer the know-how from the partners MPI, DLR, CNR-IMAA and NOA to INOE
focus in two main directions: atmospheric remote sensing technology from ground, air and space, and data processing algorithms and analysis.
Obj. 2 Improve INOE's research performance index by bridging the scientific gap with world class institutions and networks.
increase innovation
exploit the new knowledge to measurable research performance outcomes (e.g. publications, third-party citations)
Obj. 3 Increase INOE's international visibility and links within the scientific community and public.
reposition INOE on the scientific European map
Work Breakdown Structure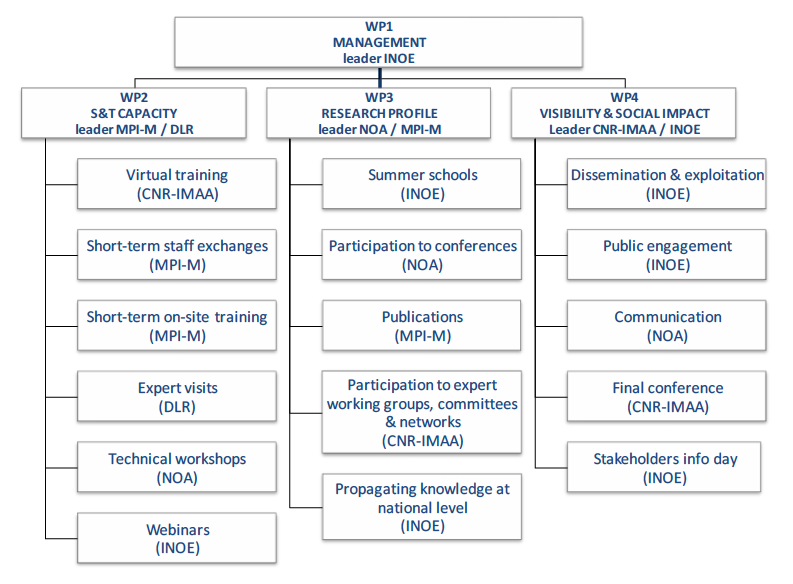 Deliverables
 

| | | | | |
| --- | --- | --- | --- | --- |
| Deliverable Number | Deliverable Title | WP Number | Dissemination Level | Due date(in month) |
| D1.1 | Evolution of the publications in high impact journals in the relevant research fields | WP1 | Public | 2 |
| D1.2 | Intranet | WP1 | Confidential, only for members of the consortium(including the Commission Services) | 2 |
| D1.3 |  Website |  WP1 | Public | 2 |
| D1.4 |  Knowledge Transfer Plan |  WP1 | Confidential, only for members of the consortium(including the Commission Services) |  3 |
| D1.5 |  Mid-term report |  WP1 | Public |  18 |
| D1.6 |  Five years development plan |  WP1 | Confidential, only for members of the consortium(including the Commission Services) |  36 |
| D2.1 |  Report on virtual training |  WP2 | Confidential, only for members of the consortium(including the Commission Services) |  6 |
| D2.2 |  Hand-book:best practices in  lidar operation and data processing |  WP2 | Public |  17 |
| D2.3 |  Hand-book: methodology for atmospheric scene classification |  WP2 | Public |  26 |
| D2.4 | Report on expert visits | WP2 | Confidential, only for members of the consortium(including the Commission Services) | 27 |
| D2.5 | Report on staff exchange and on-site training | WP2 | Confidential, only for members of the consortium(including the Commission Services) | 32 |
| D2.6 | Report on technical workshop | WP2 | Confidential, only for members of the consortium(including the Commission Services) | 32 |
| D3.1 | Lectures at Summer School 1 | WP3 | Public | 7 |
| D3.2 | Strategy for joint publications | WP3 | Confidential, only for members of the consortium(including the Commission Services) | 7 |
| D3.3 | Lectures at Summer School 2 | WP3 | Public | 17 |
| D3.4 | First assessment of the impact at institutional level | WP3 | Public | 18 |
| D3.5 | Strategy to increase Romanian participation to atmospheric remote sensing activities | WP3 | Public | 26 |
| D3.6 | Final assessment of the impact at institutional level | WP3 | Public | 36 |
| D3.7 | Assessment of the impact al national level | WP3 | Public | 36 |
| D4.1 | Impact Maximisation Strategy | WP4 | Public | 3 |
| D4.2 | Updated plan for optimisation, exploitation,public engagement and communication | WP4 | Public | 18 |
| D4.3 | Conference Proceeding | WP4 | Public | 33 |
| D4.4 | Minutes of stakeholders info day | WP4 | Public | 33 |